WHAT IS A COMMUNITY GROUP?
A community group is much more than a weekly event. Community Groups gather together at different times throughout the week to fulfill Jesus' mission of being disciples who make disciples. Together we learn how to worship and submit to Jesus in all of life by learning how to love one another as family, worship Jesus as servants who serve others, and share the good news of Jesus Christ as his sent missionaries.
Missional Experience
David Blackwell leads specific city efforts through Missional Experiences. Missional Experiences are a means to provide individuals, DNAs, and/or Community Groups the opportunity to connect and build genuine relationships with a specific people group in Albany. Our hope would be for those who volunteer to learn and practice the environments of life-on-life, life-in-community, and life-on-mission together.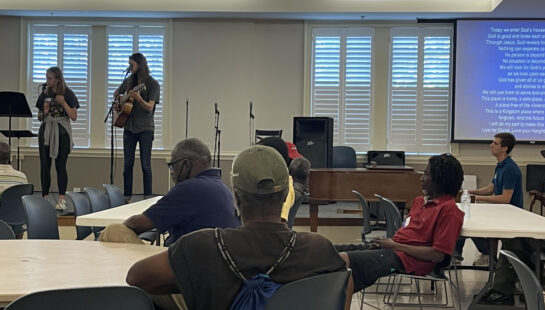 Fill out this form to sign up whenever a Missional Experience is available!
"We have been given an identity by Jesus' life, death and resurrection. From Him we live and move and breath"
FAQS
How do I get connected with others at Greenbriar?
We like to ask the question where and to whom do you feel God is sending you? To make it easier for you to find a Community Group, we have a weekly meeting called CONNECT where you can get plugged in, get a feel for what a community group, and get help with find the group that fits you and your family! To find out more, click here!
* Greenbriar reimburses childcare cost. We ask Community Groups to provide their own childcare volunteer. Email [email protected] for more information
* Children need to hear the gospel, see a genuine community, and experience dependency on the Spirit throughout the week. If gospel, community, and mission are what we want for our children what are ways we can involve them? This is a resource to get the wheels turning.
Does Greenbriar have men/women groups?
Greenbriar encourages Partners and attendees to build DNA groups within their Community Groups. The term "DNA group" refers to a group that ideally consist of three people—men with men, women with women— who meet together weekly. They seek to be known and to bring the gospel to bear on each other's lives so that they grow to become more like Jesus.
DNA is an acronym that reminds us of three key components of discipleship: Discover, Nurture, and Act.
Community Groups at Greenbriar Church